Kementrian Teknologi dan Energy dari Bavaria Jerman bekerjasama dengan BfZ dan AIPSE telah dengan sukses menyelenggarakan kunjungan industri bidang Waste Management untuk peserta khusus dari Indonesia. Semua biaya kecuali tiket pesawat ditanggung oleh Kementrian Bavaria untuk acara yang berlangsung mulai tanggal 7 sampai 14 Oktober 2018 itu.
Peserta mendapatkan informasi yang relatif menyeluruh tentang mata rantai dan teknologi pengolahan sampah di Jerman. Mulai dari sampah domestik sampai sampah industri. Setiap hari mengunjungi dua perusahaan berbeda. Tidak hanya teori yang didapatkan peserta melainkan juga tinjauan lapangan sehingga proses belajar interaktif dan lebih efektif. Diluar yang sifatnya industrial peserta diperkenalkan juga dengan metoda menarik dalam mengedukasi anak-anak sejak dini dalam hal penanganan sampah. "Gold im Muell finden" (temukan emas dalam sampah), itulah istilah yang diberikan oleh sebuah museum untuk memperlihatkan 'harta karun' yang bisa diambil dari misalnya komputer yang tidak terpakai lagi. Melalui metode edukasi ini anak-anak akan mengerti mengapa perlunya pemilahan sampah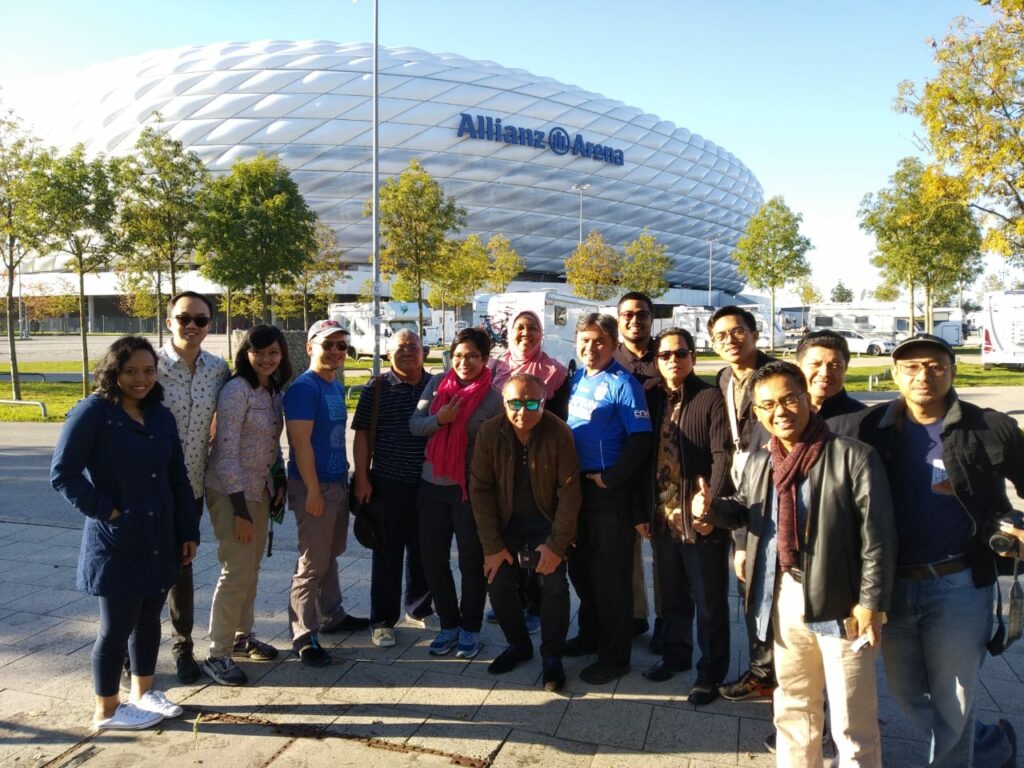 Tekad bersama demi Indonesia Hari terakhir dari kunjungan diisi dengan Follow Up Workshop untuk merancang tindak lanjut bersama dalam mengaplikasikan ilmu yang sudah didapat. Bapak Dubes RI untuk Jerman (Pak Arif Havas Oegroseno)dan Bapak Konsul Jenderal RI di Frankfurt (Pak Toferry Primanda Soetikno) berkenan datang untuk memberi keynote speech dan memotivasi peserta. Dalam Workshop yang dimoderatori oleh AIPSE ini dibuatlah 4 team kecil yang merumuskan langkah kedepan di masing-masing sub tema. Sub tema: 1) Maritim Waste, 2) Waste to Energy, 3) Plastic Recycling, 4) B3 Waste. Pada akhirnya seluruh peserta sepakat untuk membuat satu proyek percontohan dengan mengintegrasikan sub-sub tema tersebut dan mengaplikasikannya pada satu lokasi di Indonesia. Setidaknya tiga lokasi sudah dibidik dan salah satunya akan dipilih. Sebagian pendanaan dan teknologi akan diusahakan untuk didatangkan dari Jerman. Untuk hal ini team akan dibantu oleh AIPSE dan perwakilan RI di Jerman.
Serius tapi juga santai Dalam rangka mempererat hubungan kekeluargaan dalam team maka panitia memberikan "hadiah" jalan-jalan di Jerman selama kurang lebih dua hari. Diawali dengan berfoto bersama di lapangan sepak bola Internasional kebanggan jerman "Alianz Arena". Dilanjutkan dengan kunjungan ke bagian dari pegunungan Alpen di Bavaria. Temperatur pegunungan yang relativ dingin tidak bisa mengalahkan semangat untuk berselfie ria di puncak gunung dengan latar belakang danau yang sangat indah. Peserta sangat puas dengan keseluruhan acara ini. Berikut testimony salah seorang peserta dalam text WA yang dikirim ke WA-group WM18 (Waste Management 2018) "…thank you for whole arrangements, really this is a best activities for one week seminar, we learned a lot from the country of germany, and also from fellow participants, which is still laying out and many challenges that must be done with hard work in our country". AIPSE yang mendampingi peserta mencatat dua tekad kuat mereka yaitu, satu: merealisasikan proyek percontohan, dan dua: datang lagi ke Jerman di tahun 2019.