AIPSE bersama TÜV Rheinland Indonesia berhasil menyenggarakan Training ISO 56000 Series di Jerman. Training yang dihadiri oleh para peserta dari Badan Sertifikasi Negara (BSN) selama dua pekan ini terdiri dari beberapa rangkaian training series.

Rangkaian pertama, yaitu dari Senin sampai Rabu, 13 hingga 15 September 2021 para peserta mendapatkan bekal dari Gajendran Kandasamy, pakar inovasi dan enterpreneurship, yang menggantikan Peter Merrill (Penulis Guide to ISO 56000-Series) yang semula dijadwalkan namun berhalangan.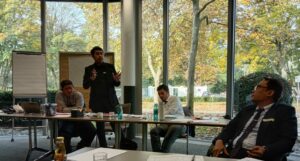 Mulai dari introduksi tema ISO 56000, ISO 56002:2019 Guidance & Plan Do Check Action Cycle in the Innovation Management System dan ditutup dengan ISO/TR 56004:2019 – Innovation Management Assessment Guidance, ISO 56003:2019 Innovation management – Guidance for innovation partnership dan ISO 56005:2019 – Intellectual Property Management di hari ketiga.
Rangkaian kedua pada 16 dan 17 September diberikan oleh Bambang Suryo Darwanto dengan tema "Product design – Innovation management". Pada sesi ini disampaikan bahwa manajemen inovasi seringkali tidak lengkap dipikirkan dan tidak disampaikan secara end-to-end. Dalam bentuk workshop mereka juga mempelajari dan membahas tentang inovasi yang didorong oleh value chain, termasuk bagaimana mengobservasi trend, membuat strategi, proses mulai dari generasi ide hingga rilis to market. Berikutnya Bambang Suryo Darwanto yang merupakan ahli berpengalaman empat puluh tahun di bidang Quality dan Innovation Management System memaparkan bagaimana memahami ISO 56002:2019 dan penerapan ISO 56000 di industri Jerman. Peserta dikenalkan bagaimana industri Jerman mengadopsi ISO 56000 dan mengimplementasikannya dalam manajemen inovasi di dalam operasional bisnis harian.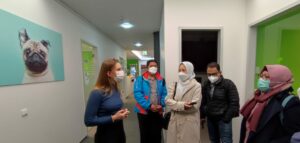 Di pekan kedua rangkaian training manajemen inovasi ini, para peserta semakin antusias mendapatkan bekal dari Ute Hilmer, seorang pakar manajemen inovasi dan business coach terakreditasi berpengalaman. Di hari pertama bersama Ute Hilmer, ia membahas dengan lebih spesifik dan dalam tentang ISO 56002 dan bagaimana support, evaluasi dan improvement inovasi. Melalui studi kasus para peserta mengalami sendiri, bagaimana memulai proyek inovasi, memahami pasar dan customer, mengeksekusi berbagai metodologi dalam hal manajemen inovasi. Mereka lebih memperdalam lagi melalui contoh-contoh riil inovasi, mulai dari proses: establishment, implementation, maintenance & continual improvement.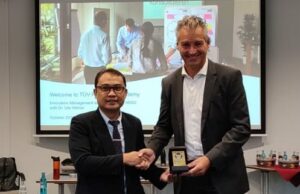 Di rangkaian akhir, para peserta training melakukan kunjungan kerja ke salah satu perusahaan inovasi di Köln. Mereka belajar langsung dari para pelaku inovasi di industri di Jerman. Dan ditutup dengan presentasi oleh Bambang Suryo Darwanto tentang standard nasional: design & development of innovation management.
Tailor-made courses ini merupakan implementasi dari misi AIPSE untuk membantu dan berkontribusi dalam transfer ilmu pengetahuan, teknologi dan enterprises dari Eropa ke Indonesia.
Indonesia semakin berkembang pesat dengan inovasinya, adalah harapan dan tujuan kita bersama.
—
Dokumentasi: